Configuration backup and restore¶
This page is generated by Machine Translation from Japanese.
Configuration backup and restore¶
Here, describes Fess information backup and restore methods.
How to set up¶
In Administrator account after logging in, click the menu backup and restore.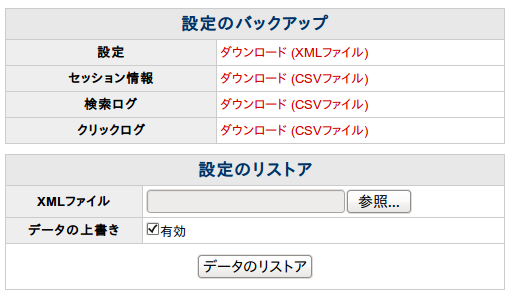 Backup settings¶
Click the download link and Fess information output in XML format. Saved settings information is below.
The General crawl settings
Web crawl settings
File system Crawl settings
Path mapping
Web authentication
Compatible browsers
Session information, search log, click log is available in CSV format.
In the SOLR index data and data being crawled is not backed up. Those data can Fess setting information to crawl after the restore, regenerate.
Restore settings¶
You can restore settings information, various log in to upload XML output by backup or CSV. To specify the files, please click the restore button on the data.
If enable overwrite data in XML file configuration information specified when the same data is updating existing data.